Bring the kids. And act like one.
Take a break from the hustle and the bustle of work everyday and spend some time as a family—pan for some gold, race go karts, pet rescue puppies, or indulge your sweet tooth. Lets go, and experience Big Canoe and the surrounding areas with the same sense of wonder and excitement that your kids do. Get off you phones and let the adventures begin.
Gold mining in Dahlonega – Crission Gold Mine
Even though it is about a 45 min drive from Big Canoe, this is one of my favorite things to do in this area. Crisson Gold Mine is an actual open pit gold mine that was established in 1847, and was worked commercially until the early 1980s. At Crisson Gold Mine, there is a 125-year-old stamp mill that is still used to crush quartz rock which contains gold. This crushed rock is called ore. In addition to the stamp mill, the mine has rod mills and jaw crushers that are occasionally used. All of these antique gold mining machines along with the open pit mine can be seen when you visit the gold mine.
Address: 2736 Morrison Moore Pkwy E, Dahlonega, GA 3053 Phone: (706) 864-6363
https://www.crissongoldmine.com/
Do you need a place to stay in Big Canoe? Check out Bear Paw Cabin, all bedroom suites and the most amazing game room with disco karaoke and arcade games! Check out our VRBO Listing, AirBnB Listing or Direct Book
Polar Bear Ice Cream Shop
Enjoy a true old fashion ice cream parlor loaded with antiques and gourmet ice cream! Polar Bear Ice Cream & Coffee is located in the beautiful north Georgia mountains. Conveniently located across from the Big Canoe Resort Community. They offer a wide variety of gourmet ice cream with all natural ingredients and make fresh waffle cones daily
Address: 88 N Gate Station Dr, Marble Hill, GA 30148
https://www.facebook.com/polarbearicecreaminthegeorgiamountains/
Tubing and Kayaking in the Cartecay River, Ellijay, GA
Do you want an easy, fun activity from start to finish? This is about a 30 minute drive from Big Canoe.
Cartecay River Experience offers Friendly and Helpful Staff that help to create a fun family atmosphere. We provide safe and proper equipment and all safety gear is included with our rentals. We have on hand life jackets to fit everyone including children. The Lazy River experience is about 1.5 miles long and takes about 1.5 hours to complete. Then they shuttle you back to where you parked.
The Adventure River Experience is approximately 3 miles long. The time of your experience if you are in a tube is roughly 2.5 to 3 hours. If you are in a kayak your experience will rangefrom 1.5 to 2 hours.
They are open from Memorial Day to Labor Day for walk ins. You can make an appt any other time of the year weather permitting.
Do you need a place to stay in Big Canoe? Check out Bear Paw Cabin, all bedroom suites and the most amazing game room with disco karaoke and arcade games! Check out our VRBO Listing, AirBnB Listing or Direct Book
Bear Paw Cabin is a Luxury 4 Bedroom All Suites cabin that sleeps up to 12.
Address: 2400 GA-52, Ellijay, GA 30536 Phone: (706) 531-4746
http://cartecayriverexperience.com/
Amicalola Falls (hiking,ziplines and special programs like BIRDS OF PREY)
Amicalola Falls State Park
Amicalola Falls State Park & Lodge is an 829-acre Georgia state park located between Ellijay and Dahlonega in Dawsonville, Georgia. It is about a 20-25 min drive from Big Canoe. The park's name is derived from a Cherokee language word meaning "tumbling waters". The park is home to Amicalola Falls, a 729-foot waterfall that is the highest in Georgia. Meet a Bird of Prey on Saturdays from 10-10:30AM in the Lodge's main lobby. Meet a Reptile on Sundays from 10 – 10:30AM in the Visitor's Center. Call before hand to confirm.
They teamed up with American Adventure Park Systems to bring you the Screaming Eagle Aerial Adventure Tour at Amicalola Falls which was so much fun when we did it.
Even the squirrels don't have this much fun in the trees! Experience the rush of adrenaline and the wind whipping around you as you fly through the air on our Zip Lines. Feel the freedom of letting it all go, trusting your instructors, your gear and yourself as you experience a birds-eye view of the forest. Little compares to this adventure and once you are back on the ground, your inner daredevil will be screaming, "Let's do it again!"
Please Note: During the winter months (late November – early March) Zip Line Tours are by reservation only so be sure to call 706-265-1233 and book your Zip today.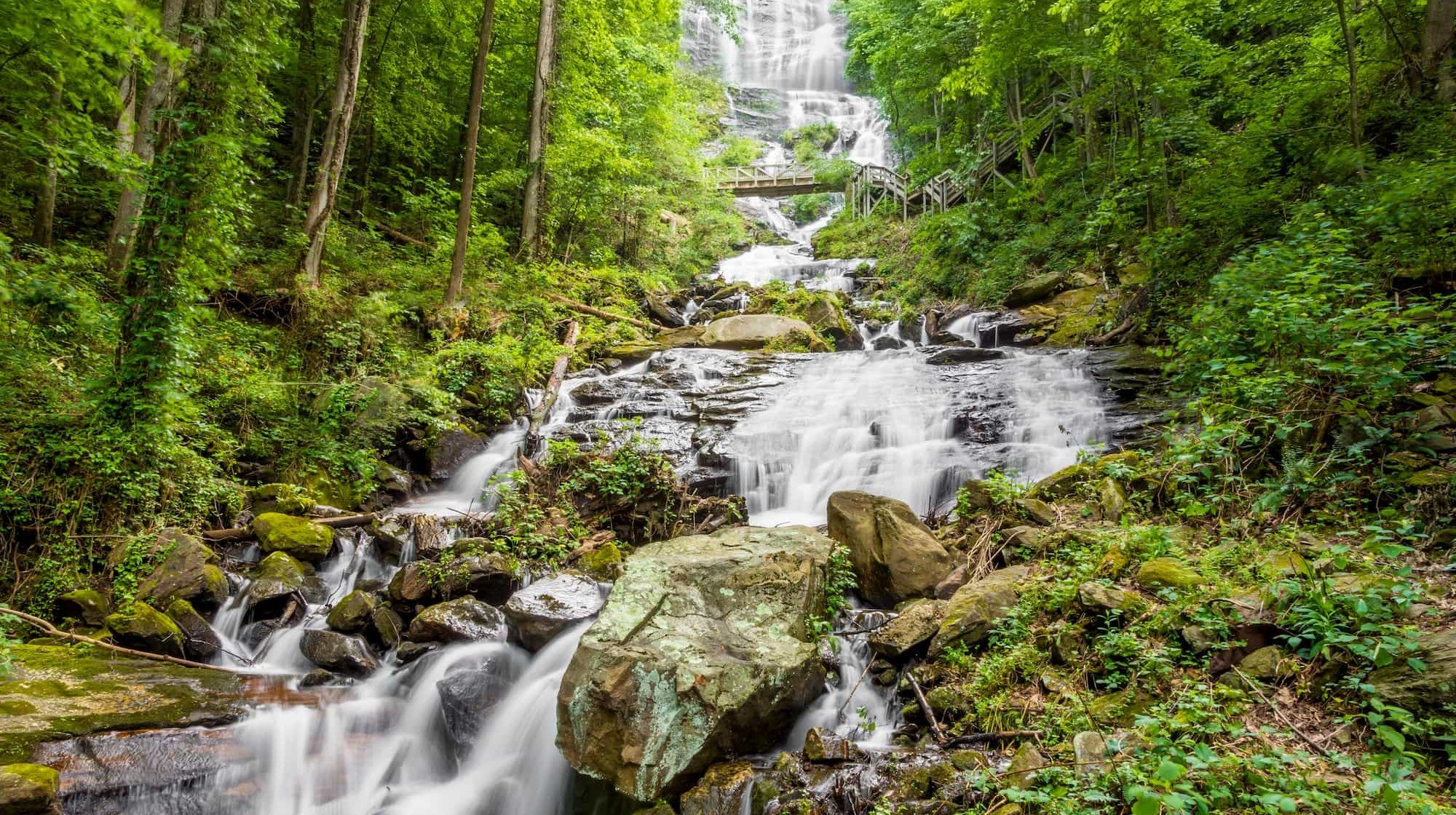 https://gastateparks.org/AmicalolaFalls
Address: 418 Amicalola Falls State Park Rd, Dawsonville, GA 30534
Do you need a place to stay in Big Canoe? Check out Bear Paw Cabin, all bedroom suites and the most amazing game room with disco karaoke and arcade games! Check out our VRBO Listing, AirBnB Listing or Direct Book
Pet the animals at BCAR Animal Rescue
Right in Big Canoe by the north gate is their own animal rescue. Their mission is to be a no kill shelter for homeless strays found in the Big Canoe community, providing them with a safe, healthy and positive environment until they are adopted into their forever loving new home.
You can see thier dogs by coming to visit us in Big Canoe during our Open House.Every Saturday at the Big Canoe Rescue Kennel from 11:00am to 2:00pm
If you wish to come at another time, you can make an appointment with the Director of Adoptions. Their phone is monitored Monday through Saturday 9 a.m. to 5 p.m. All calls are returned within 24 hours.
Address: 7506 Wilderness Pkwy, Jasper, GA 30143
Big Canoe Animal Rescue
Disharoon Beach Swim Club – Open Seasonally
From our sparkling Lake Disharoon with a sandy beach to our 110,000 gallon free-form pool, The Swim Club at Big Canoe is perfect for lounging, lapping, paddling, and playing. Have fun with paddleboats, paddleboards, canoes, kayaks, beach volleyball, picnic areas with grills, and our ever popular rockslide! For more about swimming at our private residential community, call 706-268-3317. Open from Memorial Day to Labor Day
In addition to the outdoor pool overlooking Lake Disharoon, Big Canoe has an additional pool for adults and children at the Wildcat Recreation Center. Located in the Wildcat neighborhood near our north gate entrance, this location has a 104,000 gallon pool and a kiddie pool with zero-entry and exciting play features.
There is an indoor pool (open year round) inside the gates as well. Big Canoe's 17,000 sq. ft. Fitness Center features cardio machines, free weights, Technogym strength training equipment, two indoor tennis courts, racquetball, and squash. We have a five-lane indoor lap pool. But the best part of it all? Ending a workout with an stunning view of the lake and surrounding North Georgia Mountains.
Burt's Pumpkin Farm (opens in the fall)
Come experience the fall season at Burt's Farm in the secluded North Georgia mountains! The only thing more beautiful than the fall foliage is the sea of orange created by thousands of Burt's pumpkins. Scroll down to see why Burt's Farm has become a cherished fall tradition for thousands of families every year.
Hay rides at Burt's Farm have become just as much of a fall tradition as our pumpkins. Our wagons are filled with wheat straw and are pulled by a big farm tractor. Enjoy a story by our two most famous pumpkins Autumn and Gordy and even cross a covered bridge filled with singing pumpkins! It's fall fun for the entire family.
Everyone knows that Burt's Farm is a great place to find a perfect pumpkin. But did you know when you get here you'll also find an impressive selection of winter squash, gourds and Indian corn? And don't forget our great selection of fresh-baked pumpkin pies, pumpkin rolls, candied popcorn and a delicious assortment of other fresh baked goodies.
Address: 5 Burts Pumpkin Farm Rd, Dawsonville, GA 30534
Atlanta Motorsports Park Go Karts (12 years and up)
A twenty minute drive from Big Canoe, Atlanta Motorsports Park is the home of the world's most unique and thrilling karting track. Built to Formula One standards and offering 43 feet of elevation change, AMP Kart Racing offers a karting experience unlike any other. Weather permitting. Reservations Recommended Walk-Ins Please Call Ahead.
20 Duck Thurmond Rd, Dawsonville, GA 30534
Phone: (678) 381-8527
https://www.atlantamotorsportspark.com
Do you need a place to stay in Big Canoe? Check out Bear Paw Cabin, all bedroom suites and the most amazing game room with disco karaoke and arcade games! Check out our VRBO Listing, AirBnB Listing or Direct Book
Playfield Park and other Year Big Canoe Round Activities
A world of adventure awaits kids young and old at Big Canoe from youth tennis and golf lessons, clinics, and summer camps to annual family fun like Easter egg hunts, Fourth of July fireworks, and Trick or Trunk. We also offer Kids Corner Big Canoe with almost 200 school-age children participating in ongoing social activities and events, and Canoe Cubs, a resource for kid's activities inside and outside of Big Canoe. At Big Canoe, every day feels like a play day! Call the Big Canoe POA with questions about lessons, camps and events 706-268-3346
Playfield Park in the gates is fun for all ages!
Children's playground
Grassy playfield
Running/walking track
Village Trail that connects Petit Crest Villas to Wolfscratch Village
Playfield Trail that connects Petit Crest to the Playfield
Black Bear Project sculptures
Parking available at both ends of the Playfield.
The Burger Bus in Ball Ground
Have you ever eaten a simply unique, mouth-watering cheeseburger inside of a restored vintage bus? Not many people can say yes. However, if you have, then you most likely were visiting the eclectic Ball Ground Burger Bus, which is one of my favorites. It is the perfect restaurant to take the kids and create some fun, and delicious memories. You can eat in the bus, or outside on one of the picnic tables in the courtyard.
288 Gilmer Ferry Rd, Ball Ground, GA 30107
Do you need a larger rental cabin in Big Canoe, GA to accommodate a family during the holidays, a weekend or a much needed week to relax? Check out Bear Paw's VRBO Listing, AirBnB Listing or Direct Book
Bear Paw Cabin is one of the larger properties to rent in Big Canoe, GA. Our 3,000sqft home sleeps up to 12 people and each bedroom has its own bathroom attached which is a rarity in Big Canoe. There is also two levels with two separate living spaces, great for families with kids.
Bear Paw Cabin is a Luxury 4 Bedroom All Suites cabin that sleeps up to 12.
Welcome to Bear Paw Cabin in Big Canoe. Located 5 minutes from the clubhouse and lakes, this two level 3,000 sqft property is great for larger groups. Bear Paw Cabin has a breathtaking view off the top back deck of Cox Mountain. 15 minutes from IGA Grocery Store.
We chose to make this house a rental because of the awesome features it has like a large kitchen, six bathrooms, two living areas and lots of parking. Great for multi family and group travel. Perfect for a great trip to Big Canoe, GA!
Do you want more information about Bear Paw Cabin?
You can learn more about our cabin specifics and view many more photos on our VRBO Listing, AirBnB Listing or Direct Book
Get in Touch – Bear Paw Cabin
Brian Brand Property Manager
luxurymountainrentals@outlook.com
Phone: 678-557-5739
Check out our other posts!
Big Canoe Direct Book Cabin – Book Bear Paw with Booking No Fees
What amenities are most popular for vacation rentals in Big Canoe?
Can I find family cabin rentals in or near Big Canoe? Yes and here is how
10 Reasons to Go Hiking in Big Canoe, GA
Looking for the best AirBnB in Big Canoe, Ga?
Five Reasons to Golf Big Canoe, Georgia by Bear Paw Cabin
10 Fun things to do in the Summer in Big Canoe, GA
Need a cabin rental in Big Canoe, GA? 10 things you need to know before you book
How much do the Amenities cost in Big Canoe? Here are the current rates
10 Fun Kid and Family Friendly Activities near Big Canoe, GA
Attractions and Dining Options Near Big Canoe, GA